Walther CPA
Certified Public Accountants
www.walthercpa.com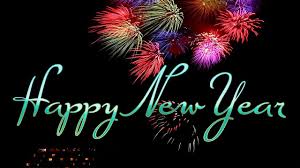 IRS Announces 2019 Mileage Rates 
The Internal Revenue Service (IRS) has issued the 2019 standard mileage rates.  Beginning on January 1, 2019, the standard mileage rates for the use of a car, van, pickup or panel truck will be:
58 cents per mile for business miles driven (up from 54.5 cents in 2018)
20 cents per mile driven for medical or moving purposes (up from 18 cents in 2018)
14 cents per mile driven in service of charitable
     organizations (currently fixed by Congress)
Keep in mind that, under tax reform, taxpayers can no longer claim a miscellaneous itemized deduction for unreimbursed employee travel expenses.  That deduction was eliminated from Schedule A alongside similar deductions like the home office deduction.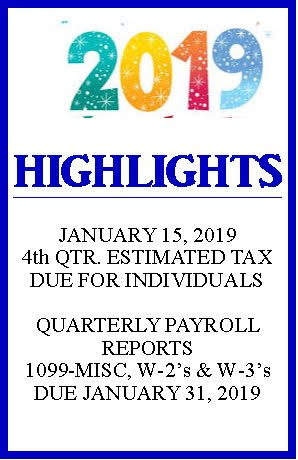 Clarification Of Itemized Deductions For Trusts And Estates
 Treasury and the IRS intend to issue regulations providing clarification of the effect of newly enacted Sec. 67(g) on the ability of trusts and estates to deduct certain expenses. Sec. 67(g), suspends miscellaneous itemized deductions for tax years 2018-2025.
The pending regulations are anticipated to clarify that the costs of trust or estate administration that are deductible under Sec. 67(e)(1) are not miscellaneous itemized deductions and, therefore, their deductibility has not been suspended by Sec. 67(g).
Expenses that are paid or incurred in the administration of an estate or trust and that would not have been incurred if the property were not held in such an estate or trust are deductible under Sec. 67(e)(1). Expenses deductible under Sec. 67(e) include costs paid for tax preparation fees for most returns, appraisal fees, and certain fiduciary expenses, as outlined in Regs. Sec. 1.67-4. Costs that are not deductible under this section are those that customarily would be incurred by a hypothetical individual holding the same property, such as ownership costs (e.g., homeowners association fees, insurance, and maintenance).
                                                                                                   Contact us for more information
People often say motivation doesn't last. Well neither does bathing-that's why we recommend it daily.

Zig Zigler
Net Operating Losses 
Most taxpayers no longer have the option to carryback a net operating loss (NOL).  For most taxpayers, NOLs arising in tax years ending after 2017 can only be carried forward.  The 2-year carryback rule in effect before 2018, generally, does not apply to NOLs arising in tax years ending after December 31, 2017.  Exceptions apply to certain farming losses and NOLs of insurance companies other than a life insurance company.  Also, for losses arising in taxable years beginning after December 31, 2017, the net operating loss deduction is limited to 80% of taxable income (determined without regard to the deduction).